ARCHWAY, Inc. is a non-governmental, not-for-profit foundation dedicated to making the lives of the stateless, abandoned children of Bucharest, Romania better and helping them to become strong, healthy, and educated individuals. The children who are our focus were abandoned by their parents when government subsidies of food stopped or who ran away from state institutions which were overcrowded and poorly equipped to handle the influx of such a large number of children. Still others ran away from abusive homes with too many children and too little food. We, at ARCHWAY are driven by the belief that, in a world with so many resources and kind hearts we can do more to help these shadow children who struggle everyday to survive. We have been working in Romania for 23 years and will not stop until all the children have the basic human rights that everyone deserves and needs in order to survive.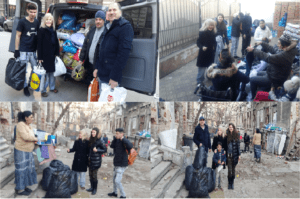 The web site that you are looking at is a collaboration between the foundation in the US (the administrative arm) and the operations center in Bucharest. We will all contribute but it is Florentina (Flori) who is our Media and Publicity Specialist. You can learn more about Flori by turning to Our Team page.
A little bit of history of how ARCHWAY began…
To better understand the work that we do today, it is best to examine the chaotic and violent history of Romania. Romania was a Communist country under a brutal dictator named Nicolae Ceausescu who ruled with an iron hand. Because Romania is a large country, Ceausescu envisioned massive industrialization and a booming economy. To supply workers to run the industries, Ceausescu encouraged large families with many children by making birth control difficult to obtain and providing subsidies of food.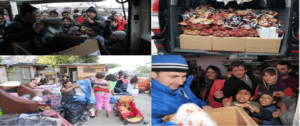 With the fall of the Berlin Wall in 1989 and the chaos that ensued, government subsidies stopped and people began struggling just to survive. The conflict to maintain power did not allow for the welfare of the average citizen and their children. The government that remained was fractured and no one with any official capacity knew how to go about establishing a democracy where one had never existed. The Romanian people, for the most part, were left with children for whom they could no longer provide food, shelter, or care. Parents were faced with the unimaginable choices of which children they could keep and which had to go. Ceausescu had built large institutions to house orphans but now the institutions were turned into warehouses for children who had nowhere else to go. Once the institutions could hold no more children, the only place for the children to go was to the streets. And those who escaped from the institutions and abusive homes joined them. It is estimated that there are about 2,000 children living in the different sections of Bucharest anywhere they can find shelter such as in subway stations, steam tunnels, and abandoned buildings.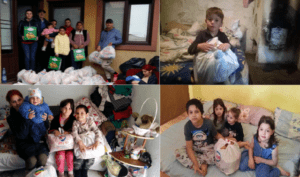 Now, before anyone gets indignant about parents abandoning children, please understand that these parents were making life and death decisions for their families as a whole; and as a formerly Communist country it was believed that Mother Russia would take care of everyone – even the children living in the streets. But the Romanian government was not prepared for this large influx of children and the governmental social systems, inadequate under normal conditions, could not handle the number of children flowing into Bucharest. Communist theory did not allow for this type of crisis and the government was at a loss as to what to do.
In 1998 I went to Bucharest in search of the institutions built by Ceausescu but they were a closely guarded secret and off-limits to everyone from the outside world. But I kept tripping over these children sitting on the subway stairs or the curbs. When I went to the American Embassy to ask who they were and where they lived, a Romanian worker told me not to worry because "they would be dead soon." That was the moment that ARCHWAY, Inc. was born. If I couldn't help the children in the institutions I could certainly try to help the children in the streets.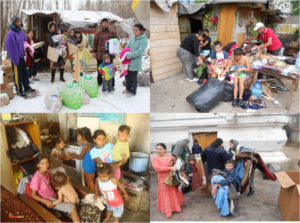 ARCHWAY, Inc. Today
The abandoned children and the runaways made their way to Bucharest. Runaways and lost children often find themselves in large cities trying to blend in or make allies in their struggle to survive. They wanted to find a life without the deprivation and neglect with which they had already lived. They arrived or were left in the city with no papers, no protection, and virtually no options. In a desperate attempt to survive they banded together in small groups with younger children being supervised and protected by older children and siblings sticking together. They ate together, lived together, moved together and shared what they had. In addition some Roma (Gypsy) children who came to beg in Bucharest stayed hoping to escape their own desperate home lives.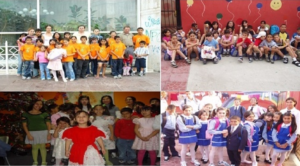 The Romanian people, themselves struggling to survive, did not recognize these children as victims of years of poverty and corruption under a government run by a madman. Rather they viewed them as an embarrassment to the country and, as such, they allowed for them to be abused with impunity, arrested arbitrarily, and imprisoned illegally. But these same children, who received no recognition from the government and were allowed no social services, survived, and their population grew. We are not looking at a second generation of street children for which no services or protections have been developed.
Over the years ARCHWAY has tried to meet the needs of the children straight on. We started in a little apartment cooking and delivering hot food, fruit, bread, and tea to them Early on we got a little publicity and people from all over the United States and Canada started sending boxes of clothing which we kept in public storage until we could save up enough money to ship the contents by surface transport – truck, ship, and finally train. Along the way, with donations from many private individuals, we found enough money to buy and finish a house to use as a long-term shelter for children who needed a place to live. We ran that for five years housing 24 children who were enrolled in school and cared for by a wonderful staff. When expenses became too great and the homeless population too large, we closed the shelter and concentrated on keeping families together and helping them survive wherever they lived.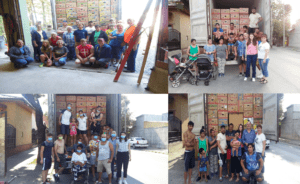 The importance of Identity Papers
The majority of the children with whom we work do not have Identity Papers – think Social Security Numbers – because their births were never registered where they were born. In some cases, the parents of the children were not registered at birth so the family records were never established. Children who were abandoned at a very early age don't remember their names, where they were born, or anything about their parents. They don't know how they wound up living in the streets; their little histories are completely blank. The lack of nurturance, human touch, and the guidance of a loving adult are tragic. Many of our children fail to thrive and develop a negative sense-of-self. Their already impossibly difficult lives are made harder by the mood disorders they develop as a result of the deprivation they experience. In addition, without identity papers these children, already outcasts, are not afforded the rights and privileges that "citizens" of Romania enjoy.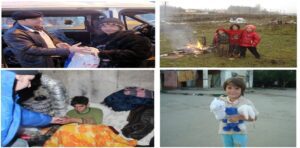 What that means is they cannot go to school; they cannot enter a hospital or go to a doctor for treatment; they are not entitled to childhood vaccinations to immunize them from mumps, rubella, and other childhood diseases; they cannot come together to rent an apartment; they are not allowed to have workbooks (to prevent them from being cheated out of wages when they do find work); and, most importantly, they are not allowed to enter a church – let alone receive the sacraments. Without papers these children are not allowed to leave the country so their existence and their plight remains unknown to most of the World. Additionally, there is no protection for them against sex and labor trafficking. Because they do not have papers they are not missed and, even if they were, how does one file a missing person's report when one doesn't know the person's name and the authorities don't know the person even existed?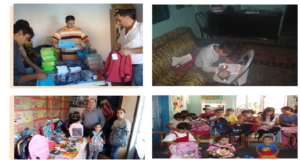 We have started this web page to expose the living conditions of these children and the injustices heaped upon them because they have no Identity Papers. They are stateless and illegal to the country in which they were born. It is our goal, in creating this web, site to make it known that these children exist. It is ARCHWAY's intent to raise the World's awareness and raise funds in order "…to improve the quality of life of children living in the streets and sewers of Bucharest, Romania".
Peace,
Sue