I believe that sometimes things are meant to happen and if you keep looking for the signs, they'll point you in the right direction. Back in the very early 1990s, I had had an argument with my boyfriend and was sitting home on a Friday night watching television. I came across 20/20 – do you remember that program? Barbara Walters was crying as she introduced a segment on the horrible living conditions of abandoned children in Romania after the fall of the Berlin Wall and the overthrow of Communism. Huge buildings had been erected in Romania to contain children that no one had the money to take care of and no one claimed. The circumstances in which these children were kept were beyond imagining – except in a nightmare. Barbara was crying, I was crying and I decided right then and there that the whole situation was against the Laws of God and should have been against the laws of man. That program was a turning point in my life and I am blessed to have seen it and to have found the children for whom we now work.

I started going to Romania, equipped with my newly earned MSW, in the mid 1990s out of sheer frustration at the lack of information on Ceausescu's state institutions and the indifference of large international charities to the plight of these children. One has to remember back then that there were two attitudes that needed to be changed: first was that Mother Russia would take care of all its citizens and second that these children were not citizens because of their lack of Identity Papers. During my early trips, I never found or got into any of the "institutions" I was searching for but I kept tripping over children and young mothers sitting on the street curbs and stairs going into the subways or staring out of abandoned buildings.
ARCHWAY, Inc. was formed on January 1, 1999 a few years after my first trip to Bucharest. As a neophyte to the "Charity Business" I did not know the restrictions under which we had to operate but I found a wonderful lawyer who did it pro bono after I did a clothing drive at his child's school. Our 501c3 status legitimized us and allowed us to get Romania's Coda Fiscala which allowed us to operate in the country. And so, armed with the proper credentials and authorizations we went to work to help the abandoned children living in the streets because, as I looked at these beautiful children sitting in the snow, I realized they did not have a safe, warm, place to sleep – and did not even know when they would eat next. I knew, as I looked at these children, that ARCHWAY had found its target population and its purpose. I also realized that there was no short cut to getting these children out of the streets and that the commitment would be a long one. I made the decision that these children were going to be ARCHWAY's raison d'etre until the inhumanity of abandoned, homeless children ceased to exist in Romania.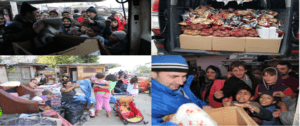 We created this web site to tell the world about the children and to ask for help from people like you who may not know about them or our efforts on their behalf. We started sending out little printed newsletters early on just to keep people informed about our efforts and to make them aware of these children. Suddenly, through a lucky series of publicity opportunities, people began to hear about our work – and the response was amazing! I was in Romania so that we could set up a mobile soup kitchen program only to find out that, due to our growing notoriety, people from all over the United States, Western Europe and Canada had started sending checks and the small pool of people to whom we sent our newsletters had grown to 3,200 people! We have relied heavily on the donations we have received over the years as well as a few grants for various projects. With the expansion of our programs, however, we need more help in the form of funding and suggestions. That is the purpose of this web site – to reach more people so that they can become involved with our work and we can continue to grow.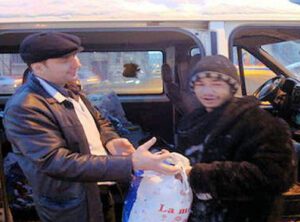 We've also been in search of organizations with which to partner for the sake of improving and expanding our existing programs. A collaboration with a large international charity would help the world learn about these children and get them the help that we, as yet, can't provide. A partnership for the sake of one (or all) of our existing programs would allow us to concentrate on other needs that are essential and to reach more children.
Our staff has changed over the years – it has grown and shrunk depending on the programs being run or the funding received. Volunteers have come and gone but always with an expressed desire to come back. Our staff has become a team which you will find showcased in the next page under Our Team.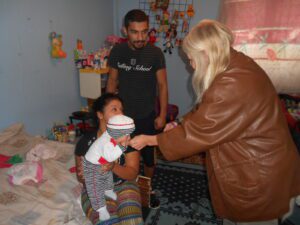 We are tightly knit and in sync in our efforts and we trust and rely on each other for input, decision-making, and support.  When we have major projects that need more hands Gica, the director, hires street people whom we trust. As implausible as it may seem that people from opposite sides of the Atlantic Ocean with no common language can find each other for the express purpose of working together for such a cause, it works – we work – and we've got the track record to prove it.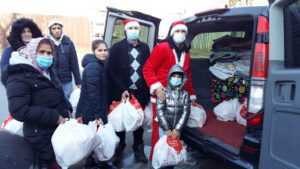 ARCHWAY, Inc. is the only foundation working in the streets with the children we've described. We go to them with food, blankets and clothing and they come to us when they need medical attention or when they're in trouble. We know that there are other international agencies that maintain a presence in Romania but we need to tap into them so that we can establish a collaborative effort to help the abandoned children.
And finally, stay tuned and tell others about our children. Once the world knows about them they will no longer have to hide in the shadows.  They'll be able to step out into the light…
Peace,
Sue